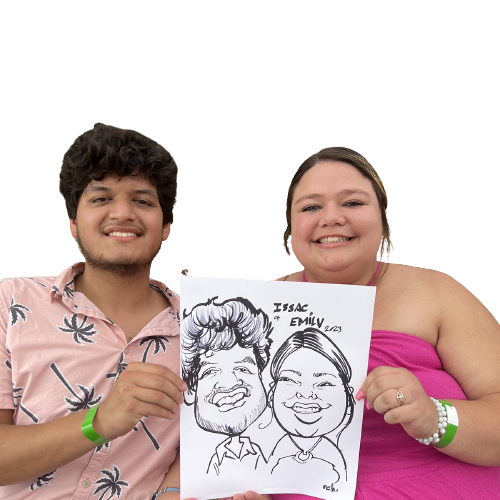 How long does a Caricature take to draw?
Traditional Marker on paper Caricatures take an average of 3-5 minutes per person for a reasonable quality sketch . If I have a long line, I can draw quicker and average 2-3 minutes per face but the quality of the sketches decreases.
Pet Caricatures take an average of 10 minutes due to usually having to use a photo reference as an aid for wiggly pets.
Digital Caricatures take an average of 5–7 minutes per person in full  color.
How far in advance do I need to book you for an event?
In most cases I recommend at least 30–60 days in advance but certain times of the year book up quickly so in those cases I recommend longer, even up to a year in advance. Generally, September through December is my prime time for bookings, with October being extremely hectic and busy.
How much do you charge for events?
Prices vary by the service and time of year. Refer to individual pages for prices, or get in contact for a quote.
Can you come set up and charge for the Caricatures?
As a general rule, NO. With over 30 years in the business, I stay pretty much booked out for hourly events, so my schedule doesn't really allow for this scenario. 
You are welcome to charge people a per piece price if you want as long as my hourly fee is met, any overage can go towards your profit or fundraiser.
Do you ever donate your time for non-profit events?
Although there are many wonderful true 501-c Charities out there, as a general rule I do not donate time.  The reason is that I cannot write off donated time on my taxes. I ask for those seeking my services to find a sponsor for my fee. I will in turn print their logo on the paper and signage. They can in turn write the fees paid off on their taxes, and it is true win-win for all.
What type of materials do you use?
Traditional Caricatures are drawn on 11 x 14 or 12×16  heavy card stock with marker and presented to the guest in clear poly bags.
Digital Caricatures are drawn on a digital tablet and printed out and presented in a protective sleeve or lanyard holder.
How long does it take you to set up?
Traditional Caricatures take about 5 minutes to set up.
Digital takes approx 30–45 minutes to set up and test to make sure everything is working smoothly.
What are your logistic requirements?
Logistics are similar for both, but do differ between digital and traditional Caricatures.
Traditional: space approx 6×6 with room for people to line up away from loud music.
2-3 armless standard height chairs
small table if possible (to sit my bag on)
Access to power for lights or well lit area if indoors
Protection from weather if outside.
Digital : Indoor events only
Access to power
sturdy table at least 4 feet long
room for people to spectate
2 standard height chairs
well lit area away from loud music
WI-FI for instant access to artwork for guests.
If no Wi-Fi is available, they can download from my website later.
If in doubt, email or call and I can go over logistic needs.
Will you travel?
Absolutely, as long as the minimum hours are met and travel fees are covered, I can travel almost anywhere. Although, I do prefer to stay within a reasonable driving distance to Charlotte, NC and avoid air travel for the digital because of the equipment I have to bring.
What is your deposit and cancellation policy?
Deposit: For indoor events or outdoor events with a rain date in place, I generally ask for a 25% non-refundable deposit to hold the date.
For outdoor events and events with no rain date in place, 50% non-refundable deposit.
Refunds: No refunds unless cancellation is my fault.
In case of cancellation due to weather, if I have the availability, you may transfer deposit to another date as long as it falls within 30 days of the original date.
For any outdoor events, it is the client's responsibility to provide the artist with protection from weather.
Are Caricatures supposed to look like you?
Absolutely, however they are not portraits. Caricature is a form of art that celebrates your uniqueness and individuality. Some faces are easier to Caricature than others, and likeness will vary from person to person. With 30 years experience, I do my best effort to make a fun takeaway sketch for you.
Do you teach classes?
Not really, as my schedule stays pretty booked with Caricatures and Pet Art.