Trade Show Caricatures
How do Digital Caricatures work?
Digital caricatures are drawn on a digital device. We can project the drawing onto a tv/monitor or can project onto a white surface such as a wall with a projector. This allows maximum visibility for your event.
We can print the caricature out in full color on a small mobile printer. We can print out 4×6 and provide plastic sleeves and lanyards, so your guests can wear them around the trade show floor, or print out up to 8.5 x 11 if you prefer just the Caricatures.
Not only that, but we also make the caricatures available to download the next day, so that your attendees can email them around, or use them for their social media avatars.
Full color digital caricatures take about 6–8 minutes per person. While this is less per hour than traditional caricatures, it's a lot of fun to watch the drawing unfold, and it's a great "show" in itself.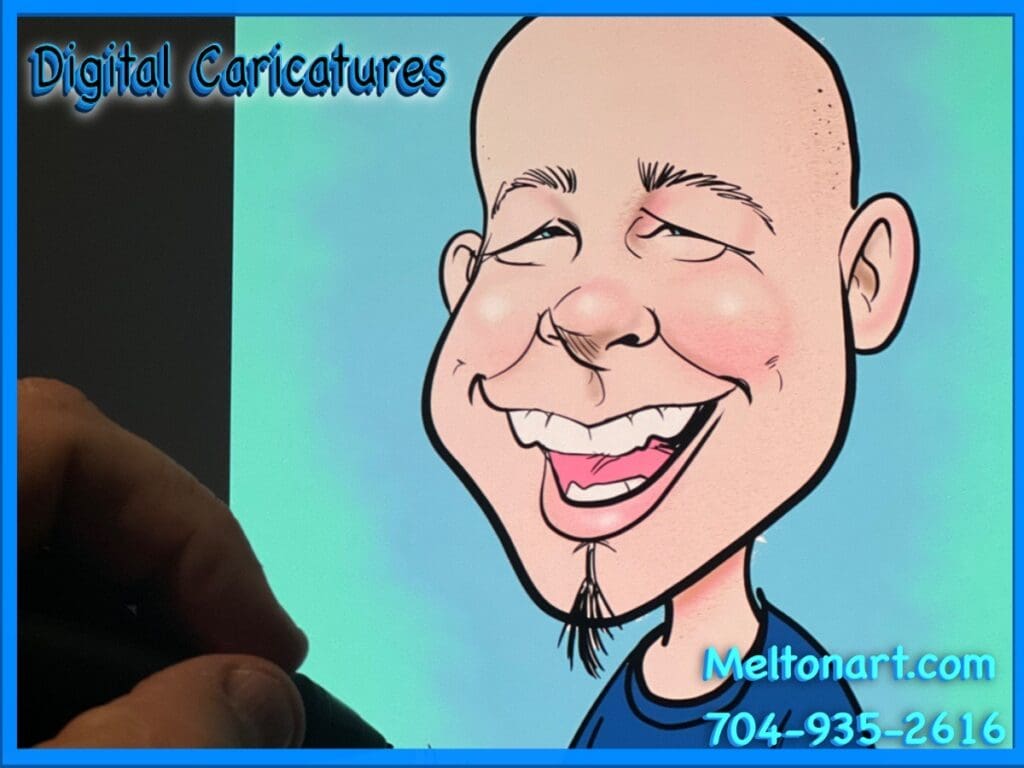 Space and equipment needed
We will need a table at least two feet around next to an electrical outlet. We can provide the screen, a tripod for the screen, the printer, and all other equipment that is needed.
Cost of digital caricatures
Our digital caricatures have 2 levels depending on your needs.
$200.00 per hour If you do not need us to provide any printing service. You can supply printer, paper, lanyards, and sleeves or just have us email the results and/or upload to Dropbox for download.
$250.00 per hour includes a monitor or projection to help draw people to your booth and 4×6 prints with sleeves and lanyards.
Both rates include full color caricatures with your company or event logo added to the pictures at no additional fee.
If you want us to pre-render a couple of body/background options, just add a one time $50.00 per design.
Are digital caricatures right for you?
If you are looking for a big "wow" factor and want to give your guests something most of them haven't seen before, digital caricatures would be perfect for you. Digital caricatures always get a great reaction, and it will be a novelty your guests will talk about for a long time.
All images, drawings, and caricatures on this website are the exclusive property of Melton Art and may not be copied, printed, or reproduced in any way except with the express written permission of Eric Melton.