South Carolina SC Digital Caricature Artist
Trade Show Cartoon Character Artist Columbia, SC
Looking for a fun trade show booth idea to attract visitors and for a unique giveaway for your booth? With over 30 years experience in the caricature art  business, we feel confident you will be blown away by our skill, customer service, and professionalism.
Charlotte based Caricature Artist Eric Melton
704-467-2575
Available to draw Digital Caricatures for your Trade Show, Wedding, Conference, Team Building Event, and more.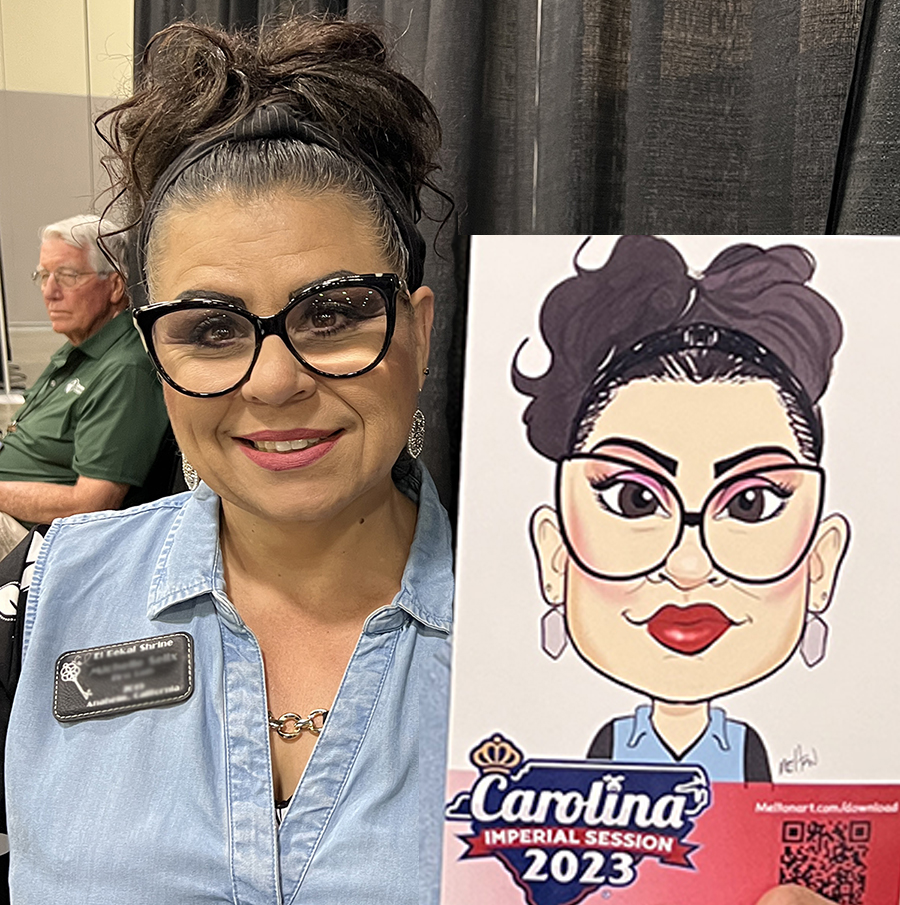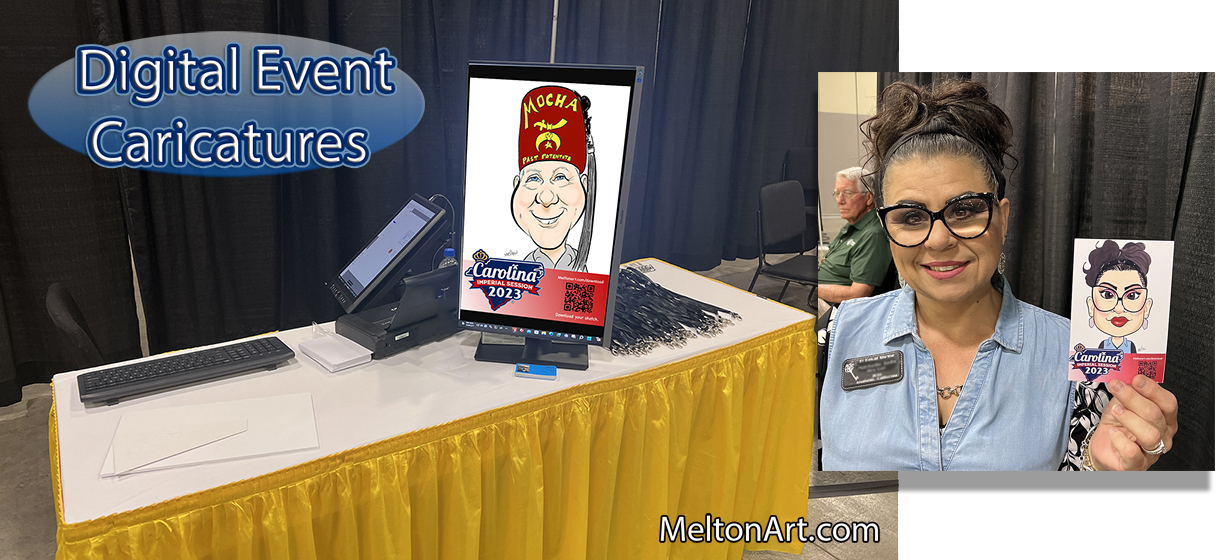 Digital Event Caricatures
 How do Digital Caricatures work?
Digital caricatures are drawn on a digital device. We can project the drawing onto a tv/monitor or can project onto a white surface such as a wall with a projector. This allows maximum visibility for your event.
We can print the caricature out in full color on a small mobile printer. We can print out 4×6 and provide plastic sleeves and lanyards, so your guests can wear them around the trade show floor, or print out up to 8.5 x 11 if you prefer just the Caricatures.
Not only that, but we also make the caricatures available to download the next day, so that your attendees can email them around, or use them for their social media avatars.
Space and equipment needed
We will need a table at least two feet around next to an electrical outlet. We can provide the screen, a tripod for the screen, the printer, and all other equipment that is needed
Tight Budget?
On a tighter budget, but you still want the opportunity of having a digital artist at your booth to pull in leads?  Our basic (no print) service is available, and you can handle the printing or simply upload the files and use them to help facilitate email lead collection.
Are digital caricatures right for you?
If you are looking for a big "wow" factor and want to give your guests something most of them haven't seen before, digital caricatures would be perfect for you. Digital caricatures always get a great reaction, and it will be a novelty your guests will talk about for a long time.
.
Full Digital Service
4x6 prints included- 4 hour minimum
Columbia SC area

Average 6-10 sketches per hour in full color

Sketched on a digital device

Your Company Logo/Branding

TV/Monitor for guests to watch

Files Uploaded to website/file sharing for later download

protective badge holders and lanyard/badge clip option.

Day/Multi day rate available. Contact for a quote. Travel/hotel fees may also apply.
Yes, we will travel! Many cities listed are close enough to our Charlotte ,NC  home base, we can drive to you and save on airfare fees.
Georgia
Albany
Athens
Atlanta
Augusta
Brunswick
Columbus
Macon/ Warner Robins
Northwest GA
Savannah/Hinesville
Valdosta
North Carolina
Asheville
Boone
Charlotte
eastern NC
Fayetteville
Greensboro
hickory/Lenoir
outer banks
Raleigh/Durham/CH
Wilmington
winston-salem
South Carolina
Charleston
Columbia
Florence
Greeneville/Upstate
Hilton Head
Myrtle Beach
Tennessee
Chattanoga
Clarksville
Cookeville
Jackson
Knoxville
Memphis
Nashville
Tri-cities
Digital Trade Show Caricatures are a great way to literally draw people to your booth to facilitate more opportunities to talk to them about your product or service.
Minimum times do apply by travel distance. Even if you want to book fewer hours as long as the minimum fee is met we can travel to you. Contact us for a customized quote